Jazzahead 2019 in Bremen
Presentation at Booth 6C16 from Thursday April 25 to Saturday April 27. We are in Bremen to find new possibilities for concerts, touring, distribution and collaborations.
---
New Album FUTURE BLUES out soon
(End of May 2019)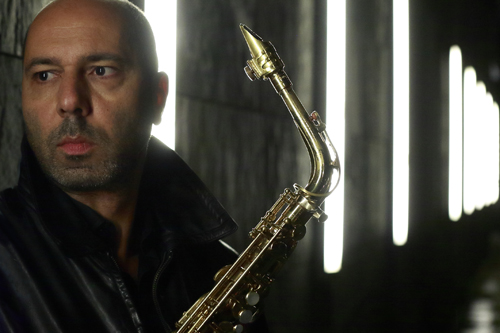 March / April 2019. Four years after his solo debut Back & Fourth Oliver Hafke Ahmad is issuing some new songs, which he produced in the last years. While the last album was recorded with his live band, the new album FUTURE BLUES is completely self-produced and recorded. Beside saxophone and flute Oliver also recorded all keyboards, synthesizers, guitars, additional percussion instruments and programmed the virtual drum sets.
"On this album I worked like a painter, developed all songs and compositions from first sketches in black and white to complete works in colorful arrangements." In this solo-recording you can hear many influences of electronic music, pop and jazz. Carefully programmed parts are well balanced with live performed and recorded instruments. It embeds the traditional jazz instrument saxophone in a contemporary sound that doesn't imitate the glorious past of blues and jazz but points into a future where the analogue individual is surrounded by an increasingly digital world.
---
More news in our news archive.